Pib's Bulletin On Covid-19
PIB'S BULLETIN ON COVID-19
Posted On: 14 MAY 2021 7:54PM by PIB Delhi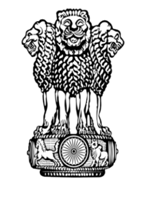 India's Cumulative Recoveries exceed 2 Crore
Union Government to supply nearly 1 crore 92 lakh of COVID vaccines to States/UTs, Free of Cost, during the Fortnight of 16th-31st May
Relaxation in procurement rules for containment of COVID-19 pandemic
Mega make-shift COVID centre set up at Kochi Refinery premises
#Unite2FightCorona
#IndiaFightsCorona
PRESS INFORMATION BUREAU
MINISTRY OF INFORMATION AND BROADCASTING
GOVERNMENT OF INDIA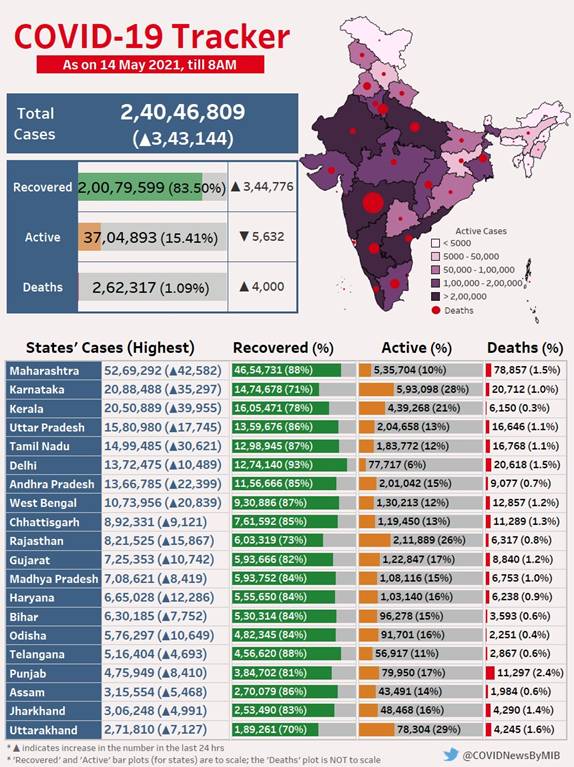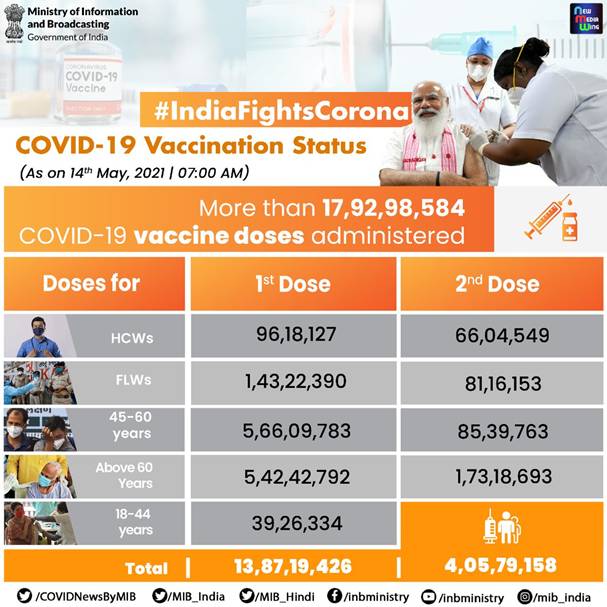 India's Cumulative Recoveries exceed 2 Crore
24-hour Recoveries Outnumber Daily New COVID Cases for Third Time in last Four Days
Decline of 5,632 in Active Caseload in the last 24 hours
India's Cumulative Vaccination Coverage steadily nearing 18 Crore
More than 39 lakh beneficiaries of age group 18-44 Vaccinated, so far
Government of India continues to Expeditiously Allocate and Deliver Global Aid to States/UTs through a "Whole of Government" approach
For Details: https://pib.gov.in/PressReleasePage.aspx?PRID=1718507
Stay Safe from Mucormycosis – a Fungal Complication being Detected in COVID-19 Patients
Control Diabetes, Use Steroids Judiciously, Keep Good Hygiene, Don't Self-Medicate
For Details:https://pib.gov.in/PressReleasePage.aspx?PRID=1718501
Union Government to supply nearly 192 lakh of COVID vaccines to States/UTs, Free of Cost, during the Fortnight of 16th-31st May
The cumulative number of COVID-19 vaccine doses administered in the country is nearly 18 Crore (17.93 Crore, as per the 7 am provisional report today). COVID-19 vaccination drive has successfully completed 118 days wherein 17.89 Crore doses have been administered to the identified beneficiaries through collaborative efforts of all States/UTs. India is the fastest country globally to reach the 17 crore target in 114 days. USA took 115 days and China took 119 days to administer the same amount of doses.
For Details: https://pib.gov.in/PressReleasePage.aspx?PRID=1718543
Update on COVID Relief Aid
The Inflow of Foreign Aid to combat COVID continues to be swiftly cleared, apportioned and sent to States/UTs
More than 10,000 Oxygen Concentrators; more than 12,000 Oxygen Cylinders; 19 Oxygen Generation Plants; more than 6,400 ventilators/Bi PAP; ~4.2 L Remdesivir vials delivered/ dispatched so far
For Details: https://pib.gov.in/PressReleasePage.aspx?PRID=1718640
Update on Ventilators Installed in Aurangabad
Ad-hoc Installation without guidance from Manufacturer in Hospitals; Improper Fitting of Oxygen Mask cause of non-optimal functioning in at least one Ventilator
Government of India has been supporting the efforts of States and UTs for effective management of COVID patients in hospital care, under the 'Whole of Government" approach since last year. In order to augment the existing hospital infrastructure, the Union Government has been centrally procuring and providing States/UTs/Central Hospitals/ Institutes with essential medical devices including ventilators since April 2020.
There have been some media reports suggesting that 'Make in India' ventilators in the Aurangabad district of Maharashtra were not functioning optimally. These reports are baseless and incorrect, not supported by full information on the matter.
For details: https://www.pib.gov.in/PressReleasePage.aspx?PRID=1718677
PM releases 8th instalment of financial benefit under PM-KISAN; Government is fighting COVID-19 with all its might
Prime Minister Shri Narendra Modi released 8th instalment of financial benefit of Rs 2,06,67,75,66,000 to 9,50,67,601 beneficiary farmers under Pradhan Mantri Kisan Samman Nidhi (PM-KISAN) scheme today via video conferencing. Prime Minister also interacted with farmer beneficiaries during the event. Union Agriculture Minister was also present on the occasion.
Speaking on the occasion, the Prime Minister said for the first time, the farmers of West Bengal would be getting the benefit of this scheme. He lauded the efforts of the farmers who have made record produce in food grains and horticulture amidst the difficulties during this pandemic. He said Government is also setting new records in procurement at MSP every year. Paddy procurement at MSP had set new records and now wheat procurement at MSP is also setting new records. He added that so far this year, about 10 percent more wheat has been procured at MSP, compared to last year. So far, about Rs. 58,000 crores for wheat procurement has reached the farmers' account directly.
Prime Minister remarked that the Government is constantly trying to provide new solutions and new options in farming. Promoting organic farming is also one of such effort. Organic farming delivers more profit and is now being practiced across the nation by young farmers. He said that now organic farming is being practised on both banks of Ganga and within a radius of about 5 kilometers, so that the Ganga remains clean.
Prime Minister stressed that during this COVID-19 pandemic, Kisan Credit Card's deadline has been extended and instalments can now be renewed by 30 June. He said more than 2 crore Kisan Credit Cards have been issued in recent years.
Prime Minister said that this once in a century pandemic is challenging the world, as it is an invisible enemy in front of us. He said the Government is fighting COVID-19 with all its might and ensuring that every government department is working day & night to ease the pain of the nation.
For details: https://www.pib.gov.in/PressReleasePage.aspx?PRID=1718582
From 126 MT of Oxygen to 7900 MT of Oxygen in 20 days; beginning with the first delivery on 24th April, Railways upscale it's Oxygen Express operations to deliver Oxygen relief to 12 States
Indian Railways is continuing its journey of bringing relief by delivering Liquid Medical Oxygen (LMO) to various states across the country. So far, Indian Railways has delivered nearly 7900 MT of LMO in nearly 500 tankers to various states across the country.
Oxygen Expresses have been delivering nearly 800 MT of LMO to the Nation each day for last few days.
It may be noted that Oxygen Expresses started their deliveries 20 days back on 24th April 2021 in Maharashtra with a load of 126 MT of LMO.
In just 20 days time, Railways has upscaled it's Oxygen Express operations to deliver nearly 7900 MT of Medical Oxygen to 12 States.
For details: https://www.pib.gov.in/PressReleasePage.aspx?PRID=1718660
Mega make-shift COVID centre set up at Kochi Refinery premises
A 100-bed make-shift COVID treatment centre opened today at BPCL's Kochi Refinery operated school, adjacent to its premises, in Ambalamugal, Kerala. Bharat Petroleum Corporation Limited (BPCL), a 'Maharatna' PSU under the Ministry of Petroleum and Natural Gas, Government of India, will provide free Oxygen, power and water to the Centre. The oxygen will be supplied through a dedicated stainless steel pipeline. The medical facility will have 100 beds in the first phase, which will be later expanded to accommodate 1,500 beds, in the same premises.
For Details: https://pib.gov.in/PressReleasePage.aspx?PRID=1718630
Relaxation in procurement rules for containment of COVID-19 pandemic
The Government of India has exempted the public procurement of supplies required for containment of COVID-19 global pandemic from the applicability of Public Procurement (Preference to Make in India) Order, 2017. The order issued by Department for Promotion of Industry and Internal Trade, Ministry of Commerce and Industry says that the aforesaid exemption shall be applicable till 30.09.2021.
For Details : https://pib.gov.in/PressReleasePage.aspx?PRID=1718515
Pradhan Mantri Bhartiya Janaushadhi Kendras (PMBJKs), BPPI and other stakeholders join hands to make available the essential medicines and other items at affordable prices
Pradhan Mantri Bhartiya Janaushadhi Kendras (PMBJKs), Bureau of Pharma PSUs of India (BPPI), Distributors and other stakeholders have come together and are contributing in the fight against the current wave of Covid 19 pandemic.
For Details: https://pib.gov.in/PressReleasePage.aspx?PRID=1718623
Launch of Defence National OPD on e-Sanjeevani portal
In order to mitigate the criticality of inadequate availability of specialised medical manpower, veteran defence doctors have come forward answering the call of the nation to provide free online consultation services on the e-Sanjeevani platform. This will help on making the invaluable experience of veteran defence medical professionals available to fellow citizens of the country.
For Details: https://pib.gov.in/PressReleasePage.aspx?PRID=1718652
Union Minister Dr. Jitendra Singh says, Community Management of COVID is equally important along with medical and administrative measures
Says, Vaccination is key priority in all the 6 districts of Udhampur Constituency
Dr Jitendra Singh also sought the views of public representatives regarding the expenditure of Rs 2.5 crore allocated recently from his MP Fund for COVID related measures. He said, he had taken this decision in view of the unprecedented crisis arising out of the pandemic, for which each one of us is expected to contribute whatever resources are available. He said, this fund could be utilised for establishing Oxygen plants or for purchase of oximeters, masks, sanitizer, PPE kits, Oxygen cylinders and other Covid related items.
For Details : https://pib.gov.in/PressReleasePage.aspx?PRID=1718642
IMPORTANT TWEETS
INPUTS FROM PIB FIELD OFFICES
Maharashtra: Brihanmumbai Municipal Corporation (BMC) has formed a committee of experts from the health department and doctors to conduct research on coronavirus. The Committee will analyse various strains of coronavirus, their impact on humans etc. Additional Commissioner Suresh Kakani said, the Committee will also keep an eye on the new viruses and probable impacts by them. The Civic body is also planning to open a Super speciality hospital for the treatment of various diseases. Maharashtra recorded less than 50,000 new Covid-19 cases for 5th day in a row yesterday. Maharashtra on Thursday reported a decline in the state's new Covid-19 caseload. The state reported 42,582 new Covid-19 cases on May 13 as against 46,781 cases reported on May 12.
Gujarat:  With the Centre increasing the gap between two doses of Covishield, vaccination for those above the age of 45 years in Gujarat has been halted for three days from May 14.Gujarat reported 10,742 new Covid-19 cases and 109 deaths on Thursday, taking its overall infection tally to 7,25,353 and fatality count to 8,840, the health department said.
Rajasthan: Rajasthan hasn't witnessed any dip in the positivity rate since last week despite fewer number of RT-PCR tests being conducted.The Rajasthan government will purchase vaccines from abroad to speed up the coronavirus vaccination process in the state and a global tender will be issued for the same. Along with this, the government has also approved direct purchase of coronavirus treatment drugs and equipment from companies.
Madhya Pradesh: Pradesh government on Thursday announced 5,000 rupees per month pension to families who have lost their earning members and bread earners due to Corona pandemic and free education for orphaned children. Chief Minister Shivraj Singh Chouhan has said that several families are facing severe financial crisis due to COVID and state government will ensure all possible help to such families.Madhya Pradesh for the consecutive fourth day registered less than 10,000 cases. State reported 8,419 fresh cases and 74 fatalities while 10,157 patients recovered from infection. The number of active cases in the state stands at 1 lakh 08 thousand. More than 60 thousand tests are being conducted every day.Under the Mukhyamantri Covid Kalyan Yojana, 2280 patients are being treated free of cost. State government is also taking strong action against black marketing of Remdesivir injection. So far 75 persons have been sent to jail under NSA.
Chhattisgarh: Chhattisgarh is recording a steady decline in cases of Corona infection. The state's health department has also begun preparations to deal with the challenges of a possible third wave of corona infection. Chhattisgarh government will bear all education and other expenses of the children who have been orphaned due to Covid-19. This scheme will be implemented from this financial year itself. Apart from this, scholarship will also be given to such children. A helpline number has been issued to identify such children in many districts of the state. Also, arrangements are being made to accommodate them in various shelter homes.
Goa: Chief Minister Pramod Sawant has said that the state would launch the vaccination drive for those in the 18-44 age group from Saturday. The CM tweeted that the vaccine will be administered free of cost across Goa through 35 government centres. The government has received around 32,870 doses of the Covishield vaccine from the Serum Institute of India.The daily COVID positivity rate in Goa witnessed a significant decline. The positivity rate dropped to 35.16 per cent from 41.40 per cent. The state government on Thursday appointed a three-member committee to inquire into the oxygen crisis at the Goa Medical College and Hospital, Bambolim. Director-IIT Goa Dr B K Mishra will be chairperson of the panel.
Assam:As many as 75 persons lost their lives due to COVID-19 in the state on Thursday. The state recorded 5,468 positive cases in the last 24 hours, the overall positivity rate being 9.18 percent. Kamrup (Metro) reported 1,173 cases.Health Minister Keshab Mahanta said that although the State government was not in favour of announcing a lockdown, it might be forced to do so in the urban areas if the situation worsens.The State Health Department said that there is no scarcity of COVID-19 beds as of now in the state. Till May 11, all government hospitals in the state together had 10,844 isolation beds, 1,751 oxygen supported beds, 686 ICU beds for COVID-19 patients against 5,233 active COVID-19 patients in hospitals and 421 patients in oxygen supported beds.The State Education department has rescheduled the month long summer vacations for classes 1 to 12, making it from May 15 to June 14, 2021 instead of the usual July 1 to July 31, in order to minimise the loss of academic days in view of the COVID-19 pandemic situation.The 4 Crops of the Indian Army has set up 45 oxygen beds and 5 ICU Beds at the Tezpur Medical College Hospital in a record time of just 3 days.
Meghalaya:Meghalaya recorded all-time high 591 fresh cases in a single day on Thursday while 18 more fatalities on the day pushed the death toll to 268.
With this, the total number of active cases in the state has jumped to 3,726. The Health department is all set to start the vaccination drive for the 18-44 age group under the third phase of vaccination from Friday.A statement from the NHM Mission Director said that registration for the vaccination on the CoWIN portal (www.cowin.gov.in) began on April 28 and booking of slots at designated COVID vaccination centres opened on May 13.All the government facilities throughout the state have slots of 100 vaccines per day except Rynjah State Dispensary and Shillong Civil Hospital which have 150 slots.
Sikkim:Sikkim loses record number of 9 lives to Covid; Toll climbs to 19O: 231 new cases of novel coronavirus were reported in the last24 hours in Sikkim taking the state's tally of confirmed cases of COVID-19 to 10,623. There are now 2,946 active cases of coronavirus in Sikkim.
Nagaland: Nagaland registered 12 Covid deaths on Thursday and also reported
highest single day spike for the 2nd day in a row with 366 new cases. Nagaland goes to total lockdown from 6 pm today. Lockdown period ends on May 21.Covid vaccination for 18-44 yrs age group set to begin in Nagaland on May 17. State Health Dept officials said the state received 36,580 doses of Covishield from Serum Institute of India on Wednesday.Over 600 persons penalized for violation of night curfew and containment zone restrictions in Kohima over the week.
Kerala:The Kerala High Court today asked the Centre to inform when they can deliver the COVID vaccine share of Kerala, by May 21. The Union government informed the Court that the vaccine supply is not under their direct control and a high-level committee appointed by the Supreme Court is in charge of it. Pointing out that COVID cases are increasing in Kerala day by day the Court said the Centre should consider the present situation in the state. Meanwhile, 39,955 new Covid cases along with 97 deaths were reported yesterday. TPR is at 28.61%. Considering the surge in Covid cases, the state government has decided to conduct more antigen tests in the state following ICMR guidelines. Antigen testing booths will be set up in coastal areas and slums for this purpose. Testing facility will be arranged for 24 hours a day at railway stations and bus stands. The Covid vaccination which was to be held in Thiruvananthapuram and Kollam districts today has been postponed, due to the red alert declared by IMD due to heavy rains. So far, a total of 82,39,454 people have been vaccinated in the state. Out of this, 62,79,381 had first dose and 19,60,073 second dose.
Tamil Nadu: The State received 80 MT of oxygen today by the Oxygen Express train which arrived from Durgapur in West Bengal. After facing acute shortage of medical oxygen with several hospitals in the state not being able to accommodate patients for want of oxygen beds, the Tamil Nadu state government has issued guidelines for optimal usage of oxygen. DMK MPs and MLAs would offer their one-month salary to the CM's Relief Fund to help Tamil Nadu in its fight against Covid19. With 30,608 more new Covid cases on Thursday, a total of 14,99,485 Covid cases have been reported in the State so far, with 1,83,772 active cases. As many as 297 more deaths were reported. The death toll stands at 16,178. Till date 68,22,834 have been vaccinated across the State, of which 49,78,091 received first dose and 18,44,743 received second dose.
Karnataka:New Cases Reported: 35,297; Total Active Cases: 5,93,078; New Covid Deaths: 344; Total Covid Deaths: 20,712. Around 68,658 were vaccinated yesterday and with this a total of 1,09,76,189 have been vaccinated in the state till now. The government has ordered all state ministers to pay a year's salary as donation to the Covid relief fund. Dy CM and head of State Covid Task Force, Dr. CN Ashwatha Narayan has said that 5 lakhs of Remdesivir injections will be imported through a global tender.
Andhra Pradesh: State reported 22,399 new Covid-19 cases after testing 96,446 samples with 89 deaths, while 18,638 got discharged during the last 24 hours. A total of 74,13,446 doses of Covid vaccine have been administered in the state as on yesterday, which include 53,32,845 first doses and 20,80,601 second doses.  The state government on Thursday issued global tenders for Covid vaccines which are likely to be opened by June 3 with a pre-bid meeting on May 20 or 22.  Chief Minister YS Jagan Mohan Reddy said, in Andhra Pradesh alone, over seven crore doses would be required to cover all those above 18 years, but the Centre has given only 73 lakh doses till date.  Referring to the oxygen supply to Covid patients, the Chief Minister directed the officials to increase the capacity of oxygen reserves in hospitals with appropriate measures to prevent technical snags in supply.  Meanwhile, Principal Secretary (Health) Anil Kumar Singhal said that the treatment for Covid-19 being provided in private hospitals under YSR Aarogyasri has been streamlined and it is totally cashless now.
Telangana:State Health Department has decided to administer only 'Second Dose' of covid vaccine till end of this month.  The fourth Oxygen Express to Telangana with six cryogenic tankers carrying 120 Metric Tonnes of Liquid Medical Oxygen (LMO) reached Hyderabad yesterday.  As many as 4,693 new Covid infections and 33 fatalities were reported in the state yesterday taking the death toll to 2,867 and the total caseload to 5,16,404. The number of Active cases in the State now stands at 56,917. Coming to vaccination programme in the state, a total of 1045 people under various categories received first dose and 38,510 people second dose yesterday in the state.  The cumulative number of people who have received first dose in the state stands at 43,75,396 and second dose at 11,03,872. State Public Health Director Dr.G.Sreenivasa Rao said there is a clearly visible downward trend of Covid infections, fatalities and hospital admissions across Telangana. The trend is being attributed to a combination of factors including two weeks of night curfew, a series of containment strategies implemented by the State government and Covid-19 precautions wholeheartedly embraced by the public.
Punjab: The total number of patients tested Positive is 475949. Number of active cases is 79950. Total Deaths reported is 11297. Total COVID-19 Vaccinated with 1st dose (Healthcare + Frontline Workers) is 817002. Total COVID-19 Vaccinated with 2nd dose (Healthcare + Frontline Workers) is 238127. Total above 45 Vaccinated with 1st dose is 2583802. Total above 45 Vaccinated with 2nd dose is 425877.
Haryana: Total Number of Samples found positive till date is 665028. Total active COVID-19 patients are 103140. Number of deaths is 6238. Cumulative number of people vaccinated till date is 4756185.
Chandigarh: Total Lab confirmed COVID-19 cases are 53393. Total number of Active Cases is 8441. Total number of COVID-19 deaths till date is 609.